Welcome to the Young Paediatric Nephrology Network (YPNN)!
We are a community of young clinicians and scientists within ESPN. All ESPN members up to their 42nd birthday (up to the age of 41 years and 364 days) automatically become YPNN members.
Our mission is to empower th new generation of professionals dedicated to improve the lives of children with kidney diseases. ESPN promotes education, training, research, and networking opportunities for YPNN members.
Together, we are shaping the future of our Society and forging a strong European paediatric nephrology community.
YPNN members have access to:
 All YPNN activities
ESPN Young Investigator Award (research grant)*
ESPN Training Grant*
ESPN Mentorship Program*
ESPN Working Groups and Working Groups' Boards*
IPNA-ESPN Junior Master Classes and IPNA-ESPN Master Certificate
ESPN Board Examination
Discount registration fees for ESPN Annual Meetings / Paediatric Kidney Week and pre-congress courses
ESPN scientific endorsement for educational activities on a national level*
*after successful application
YPNN is active in ESPN working groups
All ESPN working groups' boards now include a YPNN member. Working groups promote research, develop guidelines, organise and participate in scientific events, among other activities.
YPNN in ESPN Annual Meeting / Paediatric Kidney Week
Contributions to the scientific program in 2023
YPNN prepared and chaired the session "Breakfast with YPNN" covering:
– Career progression
– Performing clinical research
– Talk like TED
YPNN members were active presenting their scientific work and sharing their knowledge
YPNN members moderated sessions

Contributions to the social program in 2023
YPNN organised the 2nd YPNN Pub Quiz

Other contributions
Social media coverage of the conference
YPNN national liasons
YPNN national liaisons are nominated by the president of the corresponding national society of Paediatric Nephrology to represent and promote the YPNN at a national level.
YPNN partnerships with sister junior societies
Young Nephrologists' Platform (YPN) – European Renal Association (ERA)
Previous YPNN-ESPN/YPN-ERA e-seminars have been recorded and are now available online, allowing you to revisit them at your convenience.
EMErging RheumatoloGists and rEsearchers (EMERGE) – Paediatric Rheumatology European Society (PReS)
The next YPNN-ESPN/PRES-EMERGE conjoint webinar on TIN(U) and rheumatic diseases in children is approaching soon:
Tuesday, 12th December 2023
18:00-19:00 CET (17:00-18:00 UK)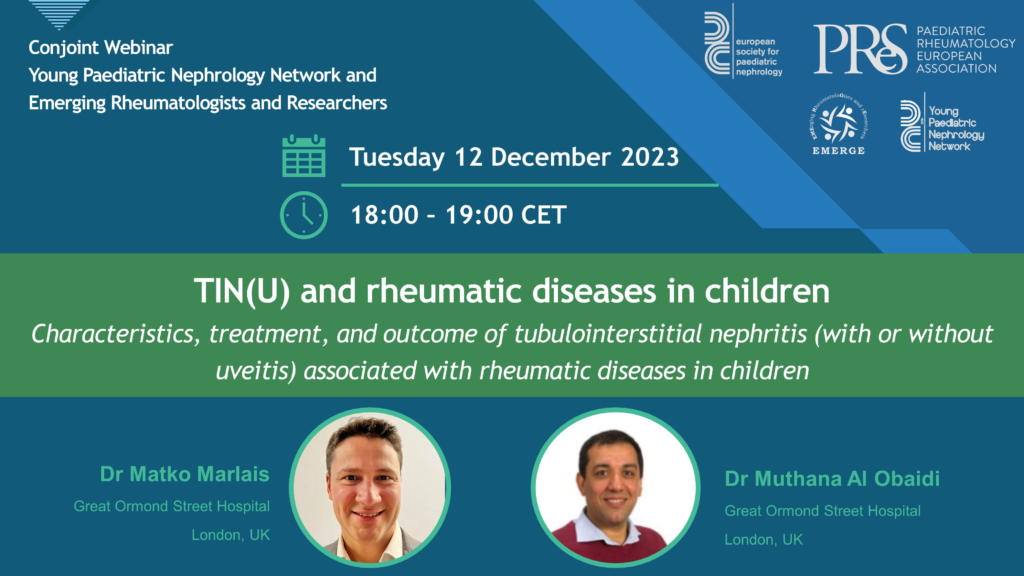 AGENDA
Characteristics, treatment, and outcome of tubulointerstitial nephritis (with or without uveitis) associated with rheumatic diseases in children.
SPEAKERS
Dr Matko Marlais is Consultant Paediatric Nephrologist and Specialty Lead for Paediatric Nephrology at Great Ormond Street Hospital for Children, London, UK. Matko is Honorary Associate Professor at UCL Great Ormond Street Institute of Child Health and has clinical and academic interests in antenatal nephrology, cystic kidney disease and the management of kidney diseases associated with rheumatological disorders, including glomerulonephritis and vasculitis. Matko is an ESPN Council Member and Board member for the ESPN glomerular diseases working group. matko.arlais@gosh.nhs.uk
Dr Muthana Al Obaidi is a Consultant in Paediatric and Adolescent Rheumatology at Great Ormond Street Hospital, London, UK. Muthana is Specialty Lead for Paediatric Rheumatology at Great Ormond Street, as well as Honorary Associate Professor at UCL, Infection, Immunity & Inflammation Department, dedicated to integrating research and academic work into day to day practice. Muthana was the Secretary of The British Society for Paediatric and Adolescent Rheumatology (2014 -2017).
MODERATORS
EMERGE: Lovro Lamot, Croatia; Erdal Sag, Turkey; Raquel Marques, Portugal.
YPNN: Evgenia Preka, France; Rute Baeta Baptista, Portugal; Fabio Paglialonga, Italy.