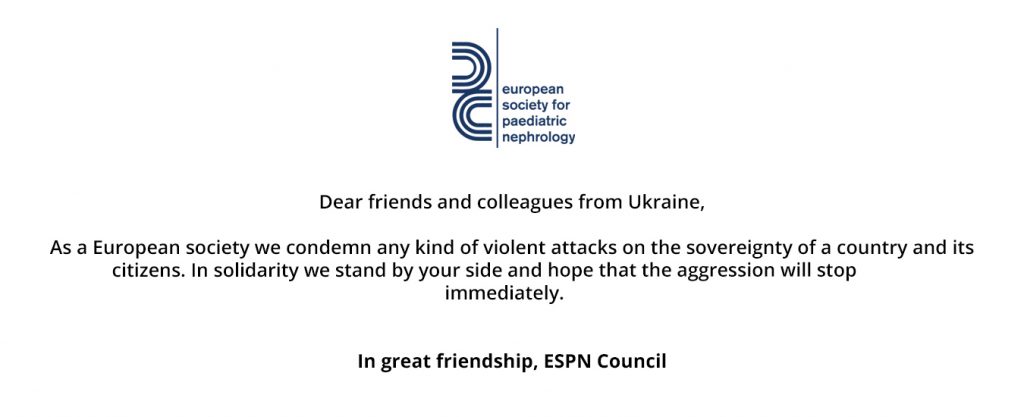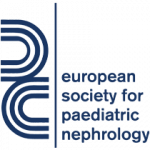 The ESPN Ukraine Task Force was created directly after the invasion of Ukraine and launched immediately a number of initiatives to support patients, families and colleagues in need in Ukraine and surrounding countries.
Some of the recent initiatives of our group are:
Supply drugs and medical equipment for dialysis and transplant paediatric patients
Arrange online consultations for patients who cannot reach paediatric nephrology centres
Provide free online access to the ESPN congress 2022 in Ljubljana for all 42 Paediatric Nephrologists from Ukraine.


We are all grateful and proud of the effort of our Ukrainian colleagues to keep providing care to their patients despite unimaginable challenges, as well as the effort of all our colleagues ensuring the continuation of treatment for our now refugee patients. We hope that this dramatic situation will end soon, and we will continuously offer our support to our patients, their families and our colleagues in Ukraine and surrounding countries until better days come.
Thank you all for your support,

ESPN council
ESPN Ukraine Task Force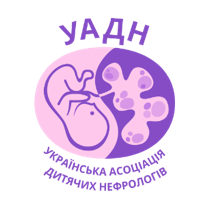 ГРОМАДСЬКА ОРГАНІЗАЦІЯ
«Українська асоціація дитячих нефрологів»
 (Ukrainian Association of Pediatric Nephrologists)
01133, УКРАЇНА, М.КИЇВ, БУЛЬВ.Л.УКРАЇНКИ, 21-А.
IBAN UA563801060000000026003312501 В ПАТ АКБ «ТРАСТ-КАПІТАЛ»
МФО 380106, КОД 41711859
ТЕЛ. (044) 284-68-97
E-MAIL   IVANOVDD@UKR.NE
Kiev, March 30, 2022
Dear ESPN Council and ESPN members,
On behalf of the Ukrainian Association of Pediatric Nephrologists I would like to express our sincere gratitude for providing humanitarian help for the children of Ukraine during the war.
After February 24, due to the abrupt discontinuation in supply of drugs and medical equipment, children with kidney diseases in Ukraine have no access to life-saving treatments. Pediatric nephrology departments are closed not only in occupied territories but also in Kiev, where the university pediatric nephrology center had to stop working. 
In this catastrophic situation ESPN council immediately offered their help and during the first week of war the most important medications (immunosuppressive and anti-hypertensive drugs, heparin) have been sent via the Belgian Ukrainian Embassy to Kiev, and immediately distributed to sick children.  Moreover, ESPN also invited children with kidney diseases to the European centers of Pediatric Nephrology and offered online consultations for those who cannot reach pediatric nephrology centers.
Even more, Ukrainian Pediatric Nephrologists will get free online access to the ESPN Congress 2022 in Ljubljana so that they can keep connection to their European colleagues.
We truly appreciate the swift response of ESPN to the needs of our sick children, without bureaucracy and delays!! Thank you for your human attitude and your support!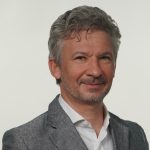 Prof. Dr. D. Ivanov  
President of Ukrainian Association of Pediatric Nephrologists
Honored Physician of Ukraine
Due to the dramatic events since the invasion of Ukraine, ESPN has started a number of initiatives to support affected patients, their families and colleagues in Ukraine and surrounding countries.
Following an initiative from Elena Levtchenko who has liaised with Ukrainian colleagues, medicines for transplant patients are being purchased and transported to Ukraine. ESPN has allocated €20,000 to support this initiative. A joint GPN/ESPN campaign was launched to gain private support & donations to support the initiative; many companies have already agreed support. Our colleagues are working with dialysis companies and specialist nutrition companies to provide essential supplies. We have coordinated our efforts through the President of the Ukranian Society of Pediatric Nephrology and the local MSF to coordinate our response.
Taskforce members:
Augustina Janukauskien (Lithuania), University Children`s Hospital Santaros Klinikos, augustina.jankauskiene@santa.lt
Dorota Drosz (Poland), Department of Pediatric Nephrology and Hypertension, Jagiellonian University Medical College, dadrozdz@cm-uj.krakow.pl
Aleksandra Żurowska (Poland), University Clinical Centre Gdansk, azur@gumed.edu.pl
George Reusz (Hungary), Semmelweis University, First Department of Pediatrics, reuszgs@gmail.com
Dieter Haffner (Germany), Hannover Medical School, Hannover, haffner.dieter@mh-hannover.de
Rezan Topaloglu (Turkey), Hacettepe University Faculty Of Medicine, rezantopaloglu@hacettepe.edu.tr
Stella Stabouli (Greece), Aristotle University, sstaboul@auth.gr
Fabio Paglialonga (Italy), Fondazione IRCCS Ca' Granda- Ospedale Maggiore Policlinico, fabio.paglialonga@policlinico.mi.it
Aysun Karabay Bayazıt (Turkey), Çukurova University, Faculty of Medicine, Department of Pediatric Nephrology, akbayazit@gmail.com
Lead for dissemination, website & social media:
Evgenia Preka (UK) Royal Free Hospital NHS Foundation Trust , Pond St. , London, evgenia.preka@gmail.com