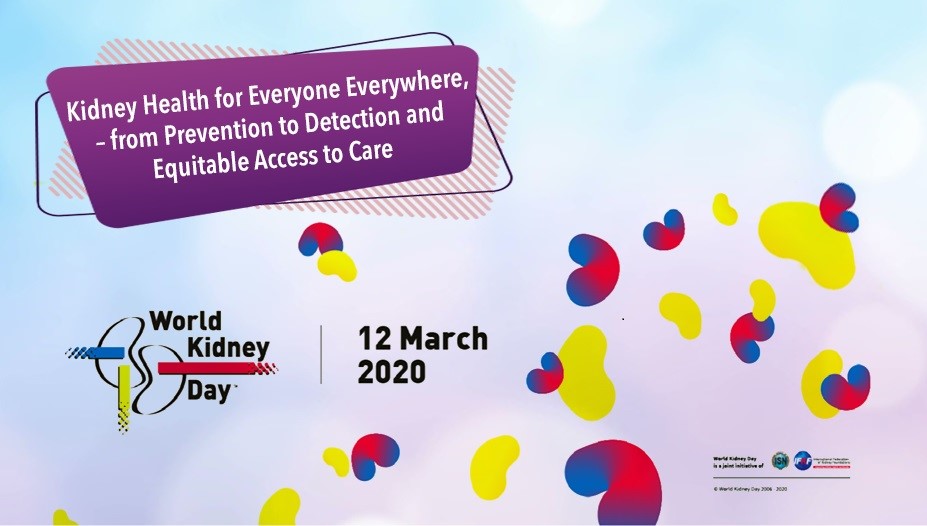 Dear ESPN members, Colleagues and Friends,
This year, World Kidney Day will be celebrated on the 12th of March with the theme of "Kidney Health for Everyone Everywhere – from Prevention to Detection and Equitable Access to Care". This international campaign has been celebrating by millions of people around the world every year and ESPN has been actively taking part in this important event.
Kidney Health for Everyone Everywhere calls for universal health coverage for prevention and early treatment of kidney disease. Specifically, the 2020 campaign highlights the importance of preventive interventions to avert the onset and progression of kidney disease. Primary, secondary and tertiary prevention of kidney diseases will be emphasized.
Primary prevention of kidney disease requires the modification of risk factors, including diabetes mellitus and hypertension, unhealthy diets, CAKUT and/ or nephrotoxicity levels. In persons with pre-existing kidney disease, secondary prevention, including blood pressure optimization and glycemic control, is the main goal of education and clinical interventions. In patients with advanced CKD, management of co-morbidities such as CKD-MBD and cardiovascular disease is of high priority.
In 2020, World Kidney Day calls on everyone to advocate for concrete measures in every country to promote and advance kidney disease prevention, including:
Renewed focus on primary care, awareness raising and education including patient empowerment and cross-specialty training
Integration of CKD prevention into national NCD programs for comprehensive and integrated services, which are essential in improving the early detection and tracking of CKD at country level
Whole-of-government, whole-of-society, health in all policies, multisectoral collaboration to promote prevention of kidney disease
Specifically for children, these measures can be undertaken and awareness campaigns can be organised:
Encourage and adopt healthy lifestyles for children (access to clean water and promoting breastfeeding for preventing AKI, exercise and healthy diet for preventing obesity and its consequences like hypertension, hyperlipidemia, etc).
Monitor growth in every children (growth failure may be the first sign of an insidious kidney disease) Measure office blood pressure of every children >3 years of age.
Measure office blood pressure in every appointment in risk groups (e.g. preterm babies, babies with a history of NICU stay, obese children, children having renal disease in their family members, etc)
Make screening for kidney diseases a primary healthcare intervention including access to identification tools (e.g. antenatal ultrasonography (unlike adults), urine and blood tests).
Restrict irrational use of medications for preventing nephrotoxicity and interstitial nephritis.
Establishing national/international registries for CKD patients.
For more information visit World Kidney Day website!
ESPN would like to produce a "Map of WKD-2020 Events by ESPN Centres" on our website. We would really appreciate your help in sending the details of your event(s) to ESPN. Increasing awareness conferences for preventing kidney diseases, walks for all children, free screenings (blood pressure, urinalysis), campaigns, audio or visual materials for CKD definition, risk factors for CKD, preventing AKI, chronic diseases and preventive measures in children are all very welcome. Join our call for "Kidney Health for Everyone Everywhere – from Prevention to Detection and Equitable Access to Care"
Thank you very much for your time!
Best regards,
On behalf of the ESPN Council,
Sevcan A. Bakkaloğlu, ESPN Council Member
Rezan Topaloğlu, ESPN President